The Internet of Things (IoT)
The Internet of Things is an emerging topic of technical, social, and economic significance. Consumer products, durable goods, cars and trucks, industrial and utility components, sensors, and other everyday objects are being combined with Internet connectivity and powerful data analytic capabilities that promise to transform the way we work, live, and play. Projections for the impact of IoT on the Internet and economy are impressive, with some anticipating as many as 100 billion connected IoT devices and a global economic impact of more than $11 trillion by 2025.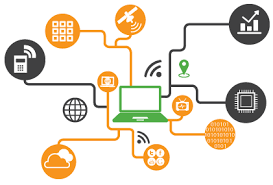 Key concepts that serve as a foundation for exploring the opportunities and challenges of IoT include:
The term Internet of Things generally refers to scenarios where network connectivity and computing capability extends to objects, sensors and everyday items not normally considered computers, allowing these devices to generate, exchange and consume data with minimal human intervention. There is, however, no single, universal definition.
How to run an IoT enabled business
IoT Now is the leading global magazine and online news source covering machine-to-machine communications in a whole host of industry verticals. Daily IoT news, white papers, product reviews and a bi-monthly magazine focused on the IoT.
As organizations grapple with the complexities of securing industrial internet of things (IIoT) applications across multiple bearers, Robert Jones, vice president of Product and Sales at Netsnapper and Dan Caton, the partner manager at Wireless Logic Group, explain how new approaches can achieve both high security and the openness needed for IIoT to flourish.
Robert Jones: A lot of people are getting into IIoT and as that happens different companies are entering the market. On one hand you have companies, like Wireless Logic, that know endpoint connectivity but there are also enterprise players that know enterprise virtual private networks (VPNs) and application management. These two worlds have been operating separately and are coming together now but the enterprise people don't necessarily understand the complexity of the connectivity world.
The security approach is different, too. Usually in a secure enterprise you use a private access point name (APN) – integrators will have a private APN with an operator – and it usually takes one to three months to deploy a new APN. It's therefore a big cost and only the SIM cards from that operator are secure. People are left to try and secure their VPNs with that.
With openness, there's a lot of benefit and value in having things publically addressable on the Internet but this can represent a security risk. We, however, can supply addressable IPv6 addresses to every device and openness can be enabled securely using configurable encryption for backend data analytics from specific devices, for example.
The future of IoT is virtually unlimited due to advances in technology and consumers' desire to integrate devices such as smart phones with household machines. Wi-Fi has made it possible to connect people and machines on land, in the air and at sea.